Past Programs
You are viewing our Past Program Information.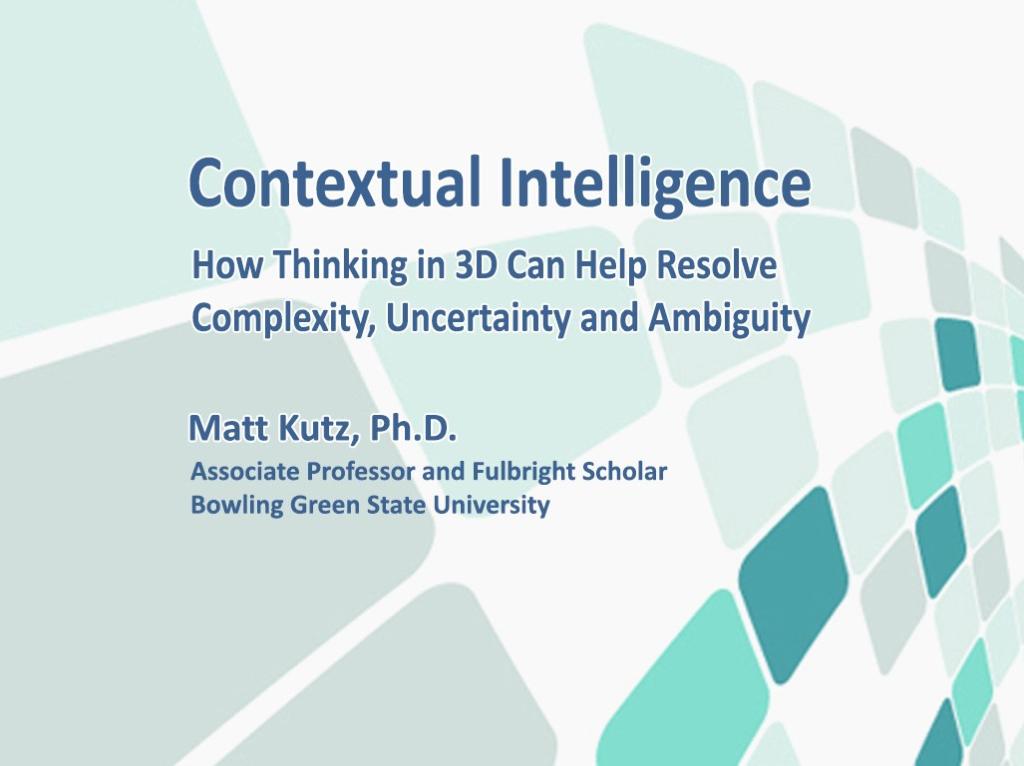 Contextual Intelligence
Program Date: Thursday, November 21, 2019
Independence, OH
Speaker: Matt Kutz, Ph.D., Associate Professor and Fulbright Scholar Bowling Green State University
Meeting Sponsors: TBD
Meal: Breakfast Buffet
Session Description:Contextual Intelligence (CI) facilitates adaptive and responsive leadership! Organizations and their people are experiencing an unprecedented pace of change. This reality requires re-conceptualizing leadership. CI is a useful model that helps participants think holistically about their experiences and biases; and describes how context (in all its facets) is a major determinant of leadership behavior that is often unexplored. Key takeaways from this presentation include: 1. Strategies to use 3D Thinking (Hindsight, Insight, Foresight) to cultivate innovation and solve stubborn problems. 2. New insights on the REAL differences between the generations at work that go beyond traditional millennial vs. Baby Boomer jargon 3. Tips on how to navigate and sustain success in a VUCA (volatile, uncertain, complex, and ambiguous) world. 4. How to make chaos and complexity for more valuable than stability and predictability.
About Our Speaker: Matt Kutz is an award winning author and award winning professor who is passionate about leadership development. Matt has been able to put his experience and education to use in multiple countries including Rwanda, Australia, Honduras, Peru, Brazil, South Korea, and China to name a few. Matt was a Fulbright scholar in the Medical Sciences, and a Visiting Research Fellow at Griffith University, School of Medicine and Goldcoast University Hospital in Queensland, Australia. Matt is currently an Associate Professor at Bowling Green University. He earned his Ph.D. in Global Leadership with specialization in corporate and organization management. Matt's research on contextual intelligence resulted in his Contextual Intelligence framework and an award winning book which has been translated into Korean. Matt worked extensively with Fortunate 500 and multinational organizations on leadership development and navigating complexity.
This program will be submitted for review to HRCI and SHRM for re-certification credits.
NOTE: When process payment online, your credit card statement will show a charge from Snazzo Productions (MightECart).