Past Programs
You are viewing our Past Program Information.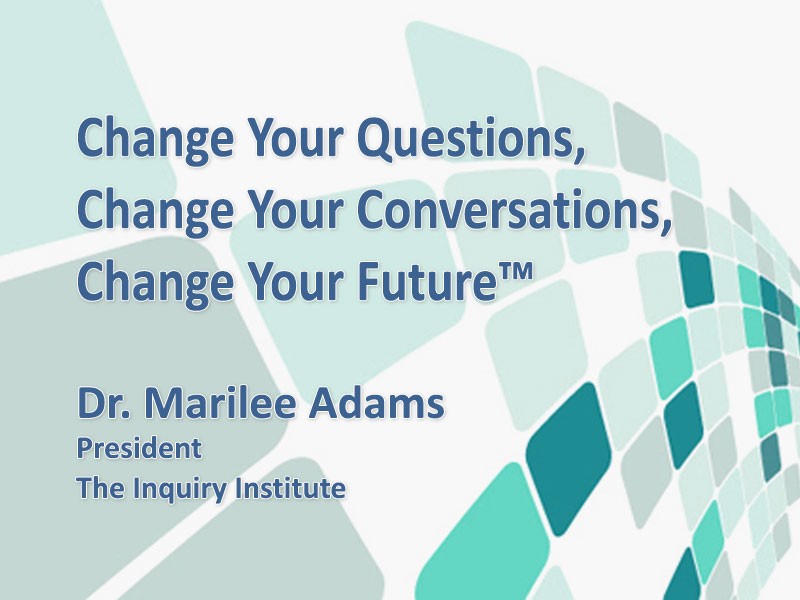 Change Your Questions, Change Your Conversations, Change Your Future™
Program Date: Thursday, March 14, 2019
Independence, OH
Speaker: Dr. Marilee Adams, CEO and President of the Inquiry Institute
Meeting Sponsors: PRADCO and iSOLVit
Meal: Breakfast Buffet
Session Description: Virtually everything that happens at work - or doesn't - is shaped by conversation. And the success of our conversations is shaped by the questions we ask ourselves and others and the mindsets and frames with which we ask those questions. In today's increasingly fast-paced world, it is more important than ever to develop skills for effective conversation; not doing so is just too costly in terms of the futures we hope to create.
This paradigm shifting, integrative approach to successful conversation is simple to learn and implement regardless of role, level, or task. This work is used to bolster critical and creative thinking, innovation, collaboration, conflict resolution, team and organizational effectiveness, and coaching and mentoring-and is often used in the context of learning organizations and action learning. These strategies for generative question asking and conversation are also well aligned with the principles and practices of Appreciative Inquiry and appreciative leadership.
At the end of the session participants will have: a way of thinking that promotes engaging, productive and mutually satisfying conversation; a way to distinguish between helpful empowering questions and those that impede relationship, motivation, and progress; a practical tool, the Choice Map, that illustrates the impact of Learner and Judger mindsets on conversation and results.
Joins us on March 14th as we learn how to shape the future of work by changing the kinds of questions, conversations and mindsets that will help us implement the changes that are needed in the workplace as it continues to evolve.
SPECIAL OFFER FOR HR LEADERSHIP GROUP MEMBERS: Attend Cleveland's Change Your Questions and Change Your Results workshop on Saturday, March 16th and receive a discounted rate by using the code HRLG2019. You can also share this discount code with others in your organization. Encourage teams to attend so they can improve their effectiveness. Learn more about this day-long workshop led by Dr. Marilee Adams, CEO and President of the Inquiry Institute by visiting: inquiryinstitute.com/workshop/cleveland.
NOTE: This activity has been approved for 1.50 recertification credit hours toward aPHR™, PHR®, PHRca®, SPHR®, GPHR®, PHRi™ and SPHRi™ recertification through HR Certification Institute® (HRCI®). This program is also approved for 1.50 PDCs through SHRM.
NOTE: When process payment online, your credit card statement will show a charge from Snazzo Productions (MightECart).