Past Programs
You are viewing our Past Program Information.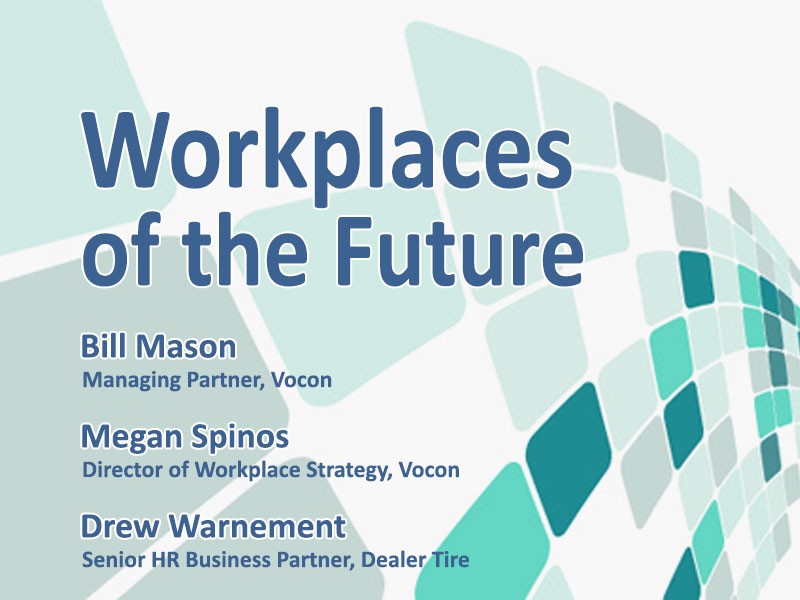 Workplaces of the Future
Program Date: Thursday, January 24, 2019
Independence, OH
Speakers: Bill Mason, Managing Partner and Megan Spinos, Director of Workplace Strategy, Vocon and Drew Warnement, Senior HR Business Partner, Dealer Tire
Meal Choice: Breakfast Buffet
Session Description: According to research from Gallup, organizations that have workplace environments where people can easily connect will see 1.5 times higher employee engagement. Gallup also found that when people can move freely between areas while working, there is 1.3 times higher employee engagement.
Workplaces of the future are being designed and built today. Central to these forward-looking workplaces is purposefully connecting the employee experience to the physical environment. Workplace studies have found that people who inhabit research-based workplaces are more creative and collaborative, and they are able to approach their work with a higher degree of productivity and efficiency.
Workplaces of the Future, HR leadership's January meeting, will take a closer look at how organizations are designing, planning and creating people-centered workplaces by focusing on the employee experience as a strategic component that leads to a competitive advantage. Join us on January 24th as we continue to define and shape the future of work. This session will be facilitated by three innovators and leaders who have worked to create workplace environments of the future.
NOTE: This activity has been approved for 1.50 Business recertification credit hours toward aPHR™, PHR®, PHRca®, SPHR®, GPHR®, PHRi™ and SPHRi™ recertification through HR Certification Institute® (HRCI®.
NOTE: When process payment online, your credit card statement will show a charge from Snazzo Productions (MightECart).