Past Programs
You are viewing our Past Program Information.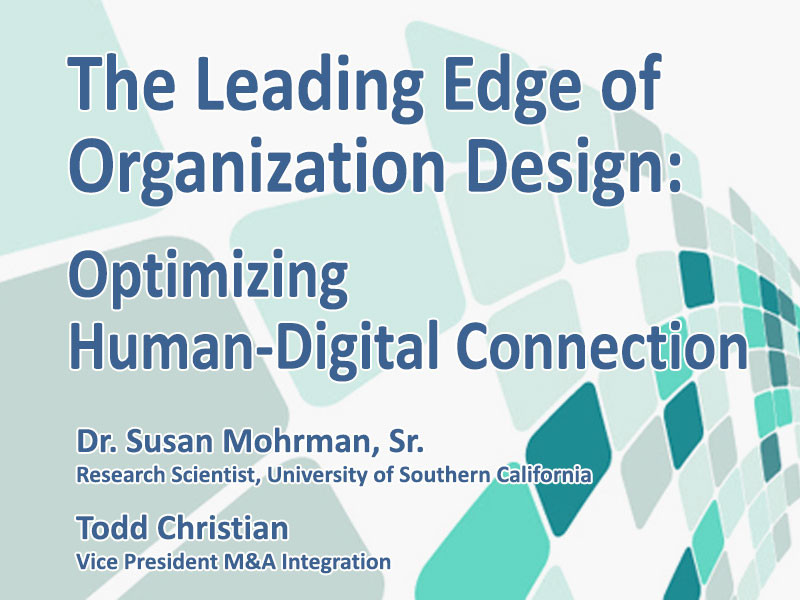 The Leading Edge of Organization Design: Optimizing Human-digital Connection
Program Date: Thursday, November 29, 2018
Independence, OH
Speaker: Dr. Susan Mohrman, Sr. Research Scientist, University of Southern California, Center for Effective Organizations; Todd Christian, Vice President M&A Integration, Lowe's Companies, Inc.
Meeting Sponsors: Corporate College and Gallagher
Meal Choice: Breakfast Buffet
Session Description: Today, all industries are undergoing some level of digital disruption. And, this transformation is only in its infancy. Most companies realize they need to take advantage of new digital technologies to be more agile, deliver great customer experiences, cut costs, improve quality and transparency, and build value. The speed of development of advanced digital technologies has far exceeded our knowledge of how to adjust organizations and work systems to take advantage of the new capabilities they offer. Companies must transform the way they work, organize, and lead.
The Leading Edge of Organization Design: Optimizing Human-Digital Connection shares the learnings from nine companies who are in the midst of this transformation. They collaborate to share challenges and approaches, and to go through a systematic design process yielding organizational solutions that enable the alignment of the social and technical aspects of their transformation.
The challenges we will discuss include: 1) The need to build the organization for simultaneous innovation and efficiency; 2) The need to effectively link the front, customer facing elements of the organization with the operating organization; 3) The change from traditional hierarchy to networks that is required to optimize digitally enabled organization; 4) The need to break down boundaries within and across organizations and stakeholders, and to redesign at the ecosystem level ; and 5) The inherent change in the role and configuration of leadership and the workforce in general. Developing the design and change capability to manage this fundamental transition requires an enhanced organizational change capability that allows for simultaneous design of the technical and social systems, and that builds-in the capacity for ongoing testing, learning, and iterating, as well as for rapid scale up of new approaches.
NOTE: This program will be submitted for review through HRCI and SHRM for recertification credits.
NOTE: When process payment online, your credit card statement will show a charge from Snazzo Productions (MightECart).