Past Programs
You are viewing our Past Program Information.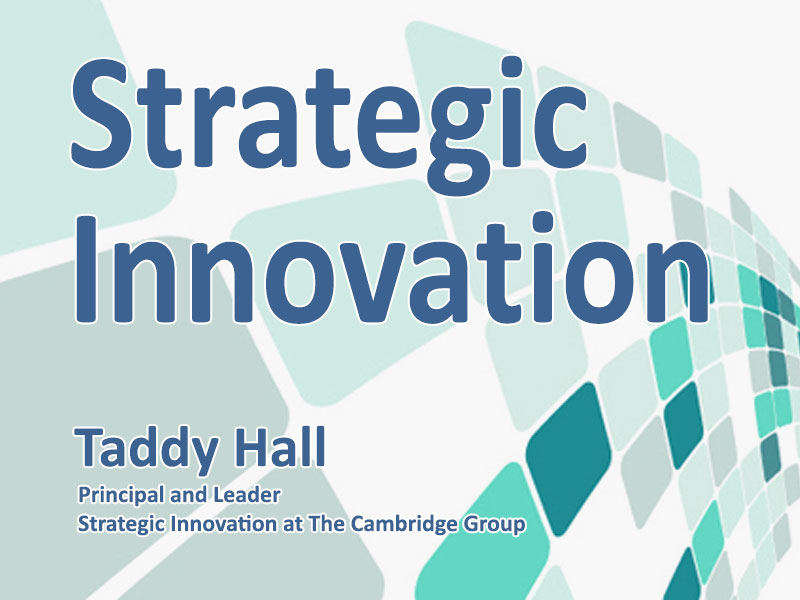 Strategic Innovation
Program Date: Thursday, May 10, 2018
Independence, OH
Speaker: Taddy Hall, Principal and Leader of Strategic Innovation at the Cambridge Group.
Meeting Sponsored by: Your Partner in HR, USA Mobile Drug Testing and EDGE - Developing Leaders, Growing Companies, Improving NE Ohio
Meal Choice: Breakfast Buffet
Session Description: Is your company ready for innovation and growth? Are your people ready to drive innovation and growth? Many companies are finding success by refocusing their approach to their customers, and by empowering their people to look at what they do in a different way. Welcome to Jobs Theory. Jobs Theory, also known as Jobs-to-be-Done Theory, is a customer-centric management approach that reengineers how companies innovate and market their products or services. With a focus on a deeper understanding of the "job" of a product or service, companies not only build stronger customer relationship, they gain a distinct competitive advantage. But, this cannot happen without connecting this approach to the company's talent. Join the HR Leadership Group of Northeast Ohio on May 10th to learn more from Taddy Hall, a leading expert on innovation and strategy, as he outlines how to go beyond analytics to engage customers and how HR can shape policies to drive talent behaviors. Taddy Hall is a Principal and Leader of Strategic Innovation at The Cambridge Group. He is a contemporary of famed innovation authority, Dr. Clayton Christensen. As a leading innovation expert, Taddy works closely with senior executives to improve innovation outcomes and drive growth, helping companies create regular, scalable innovation success. He holds a Bachelor of Arts Degree from Yale University and an MBA from Harvard University. At Harvard, Taddy worked as an Independent Researcher with Competitive Strategy authority, Professor Michael E. Porter, to develop and implement strategies for competitive inner-city economies. At the end of this session, participants will have: • The tools and resources for orienting teams and individuals towards new value creation • A new perspective on aligning HR practices with shifting customer needs • A method for simplifying and streamlining organizational systems and policies • A way of thinking that will promote innovation within the HR realm
NOTE: This program has been approved for 1.5 Business credits through HRCI and 1.5 PDCs through SHRM for recertification credits.
NOTE: When process payment online, your credit card statement will show a charge from Snazzo Productions (MightECart).