Past Programs
You are viewing our Past Program Information.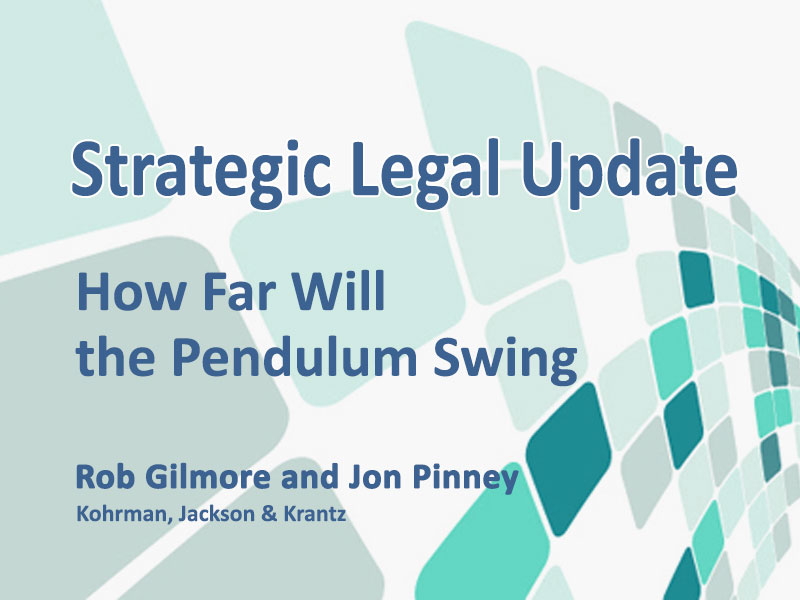 Strategic Legal Update: How Far Will the Pendulum Swing
Program Date: Thursday, January 19, 2017
Independence, OH
Speaker: Rob Gilmore and Jon Pinney
Meeting Sponsored by: Kohrman, Jackson & Krantz
Meal Choice: Breakfast Buffet
Session Description: On the day before the inauguration, HRLG member (and former Board Chair) Rob Gilmore, of Kohrman Jackson & Krantz LLP (KJK) will discuss potential changes to labor and employment law under President Trump. As Chair of KJK's Labor and Employment Law Group, Rob advises employers of all sizes on workplace issues. Among the many areas where changes are expected under President Trump and a Republican Congress include wage and hour law, the Affordable Care Act, the National Labor Relations Board, the EEOC and OSHA. Rob will be joined by the Managing Partner of KJK, Jon Pinney. Jon spearheaded Cleveland's winning bid for the RNC and served as the General Counsel for the Host Committee. Jon and Rob will also discuss workplace best practices under a Trump Administration, including the issues of cybersecurity, tax, whistleblower protection and litigation avoidance. At the end of the session, participants will learn which executive orders are likely to be rescinded by President Trump, which regulations are likely to be repealed, the likely level of federal enforcement of labor and employment laws and tips for HR in navigating this changing environment.
NOTE: This program has been approved through HRCI and SHRM for recertification credits.
NOTE: When process payment online, your credit card statement will show a charge from Snazzo Productions (MightECart).